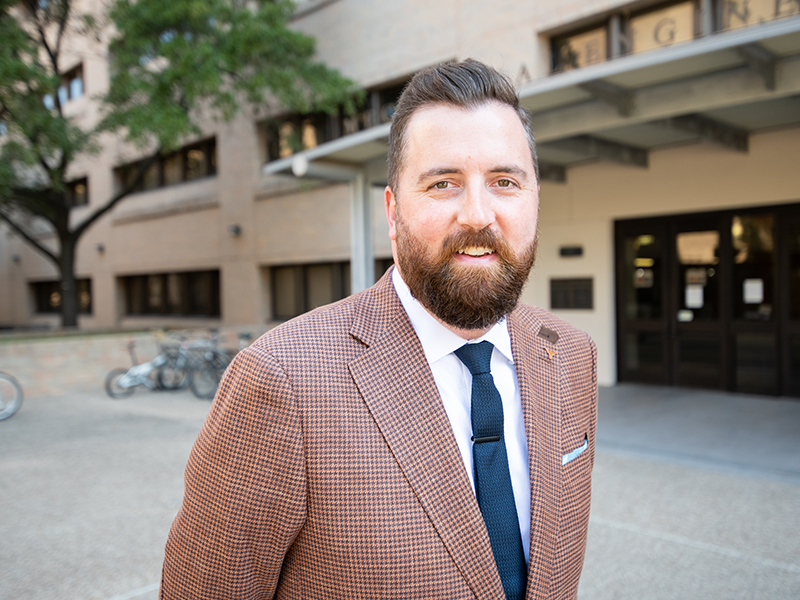 nfey@utexas.edu
512-471-3434
Office Location: AHG 2.304MB
Nick Fey
Assistant Professor
Department Research Areas:
Biomechanical and Biomedicine Engineering
Robotics and Intelligent Mechanical Systems

Dr. Fey is appointed within the Walker Department of Mechanical Engineering, and a Core Faculty of Texas Robotics. He graduated from the The University of Texas at Austin with bachelor's, master's and doctorate degrees in Mechanical Engineering. He pursued postdoctoral research in the Center for Bionic Medicine at the Shirley Ryan AbilityLab (formerly the Rehabilitation Institute of Chicago) and Northwestern University's Feinberg School of Medicine. As the Director of the Systems for Augmenting Human Mechanics Laboratory, his research focuses on the intersection between rehabilitation robotics and neuromuscular biomechanical engineering, and applies these technical domains to inform the design, control and assessment of prosthetic and orthotic technologies. Typically, this research focuses on diverse and transient forms of human ambulation, and the extent to which next-generation lower-limb assistive technologies and medical interventions enhance human ability. Support for his lab's research has been provided by the U.S. Department of Defense, the NIH, and the NSF's National Robotics Initiative.
Dr. Fey and students he advises have received prestigious awards by the American Society of Biomechanics, the International Consortium for Rehabilitation Robotics and the International Symposium on Medical Robotics, among others. As he transitioned to his in-rank position, he was a finalist for the Burroughs Wellcome Fund's Career Award at the Scientific Interface (CASI) and received the Mary E. Switzer Research Fellowship from the U.S. Dept. of Education, National Institute on Disability, Independent Living, and Rehabilitation Research (NIDILRR). He is affiliated with the UT Southwestern Medical Center, Dell Medical School, Center for Additive Manufacturing and Design Innovation and Cellular to Clinically-Applied Rehabilitation Research and Engineering (CARE) Initiative.
Dr. Fey teaches courses in the Dynamic Systems and Control instructional area of the Walker Department. He also serves as the Graduate Student Recruiting Coordinator for the Biomechanical Engineering instructional area, the Co-Faculty Mentor for the Biomedical and Biomedicine Career Gateway Elective (CGE) track, and the Co-Faculty Advisor for the Texas Robotics Graduate Students (TRGS) group. Within his research community, he is an Associate Editor for the IEEE International Conference on Robotics and Automation (ICRA), the IEEE RAS/EMBS International Conference for Biomedical Robotics and Biomechatronics (BioRob), the Annual International Conference of the IEEE Engineering in Medicine and Biology Society (EMBC), and the IEEE RAS/EMBS International Conference on Rehabilitation Robotics (ICORR). He helped found the UT Southwestern Adaptive Sports Coalition, to improve the access, awareness and performance of individuals with physical disabilities during sports, and regularly participates in outreach at student group, high school and other community events.
Contributions to Science
Neuromuscular Biomechanics of Individuals with Limb Loss and Neurological Disorders during Steady and Transient Ambulation
Optimization of Passive Device Assistance in the Lower Extremity
Myoelectric and Sonomyographic Control Systems of Robotic Leg Prostheses
Informed Plastic and Orthopedic Surgical Interventions to Improve Lower-Extremity Function
Neuromusculoskeletal Modeling and Simulations of Human-Machine and Human-Environment Physical Interaction
Selective Laser Sintering Additive Manufacturing of Lower-Limb Prostheses and Orthoses
Publications