Sketchbook-Themed Amusement Park Design Sets Student Team Apart
August 23, 2021
A team of Texas Engineering undergraduate students took a colorful approach to the 2021 Cornell Theme Park Design Competition and won two out of five competition categories, placing second overall.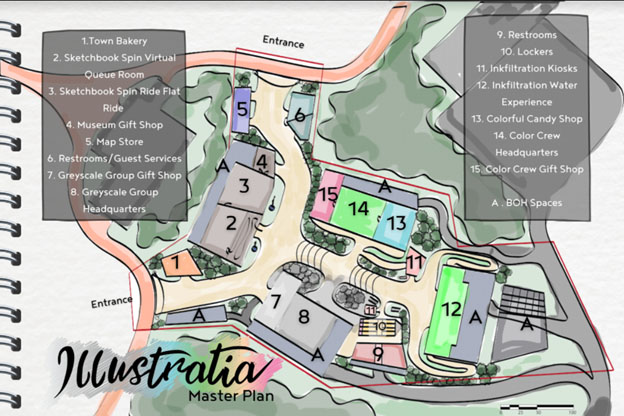 Kendall Duggar, Katie Kahoutek, Olivia Pierce and Scia Verma, all mechanical engineering students and members of the Texas Theme Park Engineering Group, developed everything from the park's technologies to its master plan and layout.
Their proposed amusement park concept, Illustratia, transports park-goers into the pages of a sketchbook. Guests are immediately immersed in a storyline as they engage with the park's interactive elements and are encouraged to "join the battle between the Greyscale Group and the Color Crew," a yearslong feud between embracing a monochromatic world or making Illustratia the most colorful town in the sketchbook.
"Our team started with the idea of a land based on color," Duggar said. "From there we wanted to create a dueling sides story, similar to Galaxy's Edge in the Disney theme parks, so we combined the two ideas to form Illustratia."
The team's detailed storyline, technology integration and attention to ADA guidelines set them apart from competitors, leading them to take the top spot in the Innovation and Master Planning categories.
"While several groups succeeded in meeting the innovation goal, it was thrilling to see such deep understanding of these advanced technologies with the [UT Austin team]," said one of the competition's judges and an industry expert from CAVU Designwerks. "Their incorporation of radio frequency identification bands to assist operators with guest flow while simultaneously pushing guests deeper into the story through personalized interactivity is what set them apart."
The spring 2021 competition included student teams from 61 universities and nine countries and was judged by themed entertainment engineering industry experts. Each team was assessed for their creativity, feasibility, strategy and professionalism. The UT Austin team was the only U.S. team to place in the top five.