Impacts of the J. Mike Walker Departmental Gift
March 25, 2021
Nearly three years after the milestone gift from J. Mike Walker, the Walker Department of Mechanical Engineering at The University of Texas continues to improve research, facilities, and student experiences.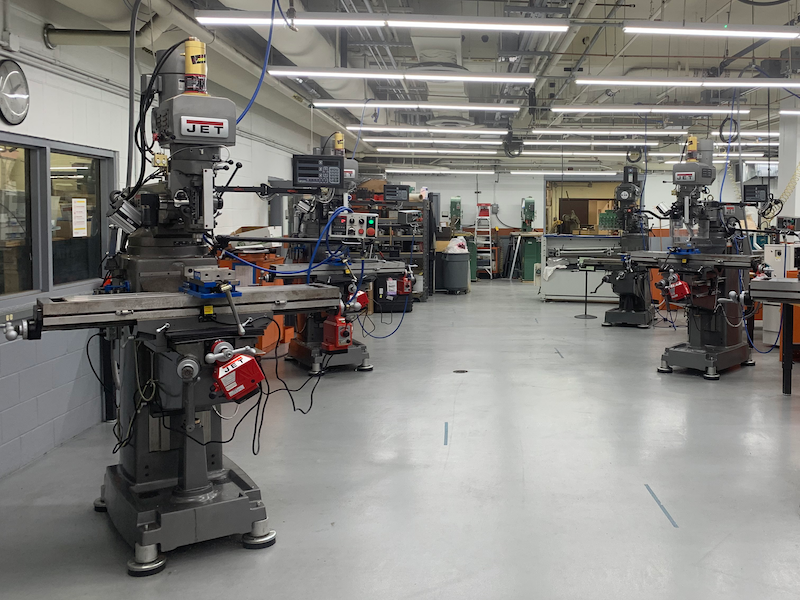 Received in 2018, the gift of $20 million has contributed to many facility renovations. A full overhaul of the department machine shop has included new flooring, furniture, and a wall removal for a more open concept space. There have also been updates to six labs and classrooms including new computers, projectors, lighting, and other equipment. In addition, upgrades were done to the labs of Drs. Zheng, Kovar, Hutter, and Ezekoye. These combined renovations give the Engineering Teaching Center, home of the department, a fresh, inviting look. More renovations to student spaces were scheduled but put on hold due to the COVID-19 pandemic.
Other major departmental projects have been directly supported by this gift. Several ME Seed Grants were given to faculty including Ashish Deshpande, Erhan Kutanoglu, Yubeing Zheng, Raul Longoria, Filippo Mangolini, Donglei 'Emma' Fan, Vaibhav Bahadur, and David Bogard. Funding was also given to the UT Fire Research Group, which focuses on a wide range of problems that include fire forensics, wildfires, community fire risk and loss assessments, and firefighter safety. The group was allotted funds for materials, awards, and a new lecturer.
Walker funds have also been allocated to support student scholarships and organizations. One recipient is Elevate ME which seeks to increase the number of women in Mechanical Engineering through scholarships, mentoring opportunities, and summer internships. Budgets are also given to the Undergraduate Advisory Board and the Graduate Student Board, both of which work as liaisons between students and faculty.
This generous gift from J. Mike Walker continues to impact the Department of Mechanical Engineering as it attempts to grow and adapt with the times. There are still many opportunities left to put these funds to good use and to honor the legacy of J. Mike Walker.